A pair of rather vulvar curlicues bracketed the words: Bitches And Sad Ladies. The cover's red-purple color-scheme looked like something, to quote my father, "from a whore's boudoir." The typeface and the teal-edged pages identified the book as a relic of the 70's. I was about to show it to my book-shopping companion, eyebrow raised.  Then I looked at the list of contributors: Ann Beattie, Joy Williams, Edna O'Brien, Cynthia Ozick, Grace Paley, Anne Sexton and Joyce Carol Oates.
The Sad Lady-Bitch dichotomy is as old as the Princess and the Stepmother. The first waits to be saved and the second fights her own corner using any means available, whether that be claws, black magic or only carnivorous wit. In the book's Introduction, Pat Rotter suggests that a Sad Lady who becomes a Bitch is becoming empowered: "It is not only acceptable but often very useful for a woman to be angry at the man she loves, the parents she loves, the child she loves." Feminists today aren't supposed to be irate or even irritable. They are supposed to write lady-blogs about organic food and have their own start-ups. The permission to be imperfect and unbalanced should have seemed dated, but it felt necessary. The night outside was cold. I was waiting to hear back from various institutions that would determine the fate of my tertiary education. I was trying to figure out what I wanted, where I wanted to be, and with whom if anybody I wanted to be with. I bought the book for six dollars plus tax.
Many of the stories are angry, some are funny, and several are beautiful. The characters are not prodigies of first, second or third wave feminism, merely bitches and sad ladies doing their best. Some of the authors have vanished into obscurity or perhaps never left. Others like Beattie, Oates, Ozick and Paley have only risen in fame.
To my mind, the story that embodies best the fury and the floundering belongs to Anne Sexton. I, like most people, was not aware that Sexton had ever written prose. "The Letting Down of The Hair," first came out in The Book of Folly, a poetry collection. Perhaps this is because The New Yorker, which had published dozens of her poems, had refused to print even a single short story.
The Sad Lady short story could be a genre in and of itself. The weaker incarnations typically involve Earl Grey tea and bathtubs. The good stories are less easily identifiable; critics like to call them 'lucid' or 'spare.' Anne Sexton's story is certainly sad and features multiple ladies. The speaker's sole confidant commits suicide: "First she hung the dog. And then she hung herself." But "The Letting Down of the Hair" isn't a swooner; it's a thrasher and a screamer.
This might not appeal to everyone. The voice risks words like martyr and moon, at times the speaker seems hysterical. But compared to some of the perfect corpses favored by certain graduate school writers—Sexton's story is clawing for its life.
"The Letting Down of The Hair" tells the story of a modern Rapunzel who has locked herself in a stone room. Her hair receives fan letters, pilgrims, and gawkers. The hair is filmed for television. Although the setting is modern, Sexton plays with fairy tale logic. Honey is preferred to shampoo. A woman is only a vessel for her hair. A wish causes a death.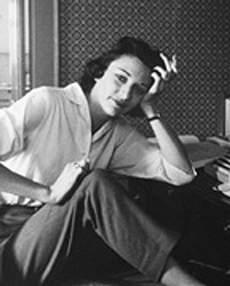 Sexton has the poet's skill of condensing meaning. The speaker informs us: "I'd had a normal life, men and lipstick, daiquiris and sunburns." And we immediately know the sort of woman she has been—without names of men, without dates, or history—we know. Ruth, the speaker's shorthaired confidant, becomes emotionally vivid in two lines: "After years of therapy, [Ruth] gave it all up for Zen. She watched her mind as a cat watches over a fish tank." The sentences stay thrumming in the reader's mind.
The prose is as wild and strange as the woman it describes: "I have never cut my hair. That's something you ought to know right off. It fills the room the way ten giraffes would, twisting and twisting, their long and innocent necks." Before Ruth dies, she writes to the speaker telling her that Christ has revealed the hair is a parable for the life of the poet. The speaker doesn't know what to do about this, doesn't even fully understand it. And after Ruth dies, she has no one to ask.
Anne Sexton was alive in 1974 when Pat Rotter wrote the introduction to the anthology. Sexton had committed suicide by its publication. Some people suggested that she had turned to prose, because her poetry was beginning to fail. They characterized this as the desperate fumbling of a waning star. I prefer to think of her as someone willing to risk imperfection when stretching towards beauty and power.
I lost my first copy of this book on the subway. Luckily, there were and are some copies still floating around online. I keep the new copy on my desk as a reminder that it is okay as a woman and a writer to be sad, but it's better to be wild.
Rowan Hisayo Buchanan started out in London, moved to New York, squatted in Tokyo and is currently in the Middle West pursuing an MFA at the University of Madison-Wisconsin. Previous work has appeared on NPR's Selected Shorts and in The Columbia Review. @Rowanhlb